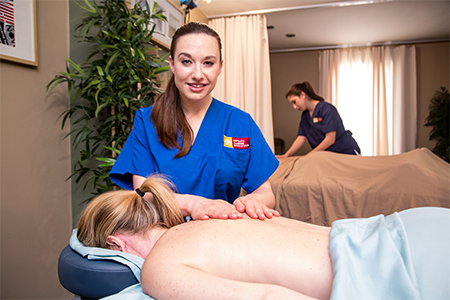 Massage Therapy
Using the healing power of touch to help others
Massage Therapy Careers
Work Environment
The Massage Therapy program at Nevada Career Institute is a professional vocational training course designed to provide the fundamental knowledge and education needed to begin working in massage offices and private practices, physicians' offices, hospitals and medical centers, chiropractic offices, nursing facilities, outpatient clinics, health clubs and fitness centers, spas and resorts, hotels, cruise ships, beauty and hair salons, pain management centers, and sports team facilities.
Graduates of the program routinely find entry-level positions jobs working in:
Massage offices
Chiropractic offices
Nursing facilities
Outpatient clinics
Health clubs and fitness centers
Spas and resorts
And other related facilities
Quick Facts about Massage Therapists*
Employment of Massage Therapists is projected to grow 22 percent nationally from 2014 to 2024, much faster than the average for all occupations.
As more health care providers understand the benefits of massage, demand will likely increase as these services become part of treatment plans.
The number of massage clinic franchises has increased in recent years, offering more affordable massages than those provided at spas and resorts, making massage services available to a wider range of customers.
Because Massage Therapists work by appointment in most cases, their schedules and the number of hours worked each week may vary considerably.
Many sports teams hire Massage Therapists to help their athletes rehabilitate from injuries and to relieve or manage pain.
A Massage Therapist's working conditions depend heavily on the venue in which the massage is performed and on what the client wants.
Many Massage Therapists become self-employed.
*Source: http://www.bls.gov/ooh/healthcare/massage-therapists.htm
For more information, please visit the U.S. Bureau of Labor Statistics.
Get started now!
Learn more about Nevada Career Institute and our programs.