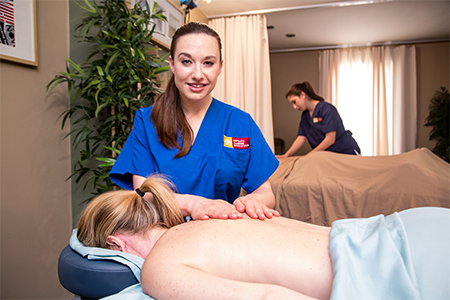 Massage Therapy
Using the healing power of touch to help others
Massage Therapy Course Activities
Massage Therapists treat clients by using touch to manipulate the muscles and other soft tissues of the body. With their touch, therapists relieve pain, help heal injuries, improve circulation, relieve stress, increase relaxation, and aid in the general wellness of clients.
Massage Therapists may use lotions and oils, and massage tables or chairs, when treating a client. A massage can be as short as 5–10 minutes or could last more than an hour.
Massage Therapists can specialize in many different types of massage or modalities. Swedish massage, deep-tissue massage, and sports massage are just a few of the many modalities of massage therapy. Most Massage Therapists specialize in several modalities, which require different techniques.
Massage Therapists typically perform the following tasks:
Talking with clients about their symptoms, medical history, and desired results.
Evaluating clients to locate painful or tense areas of the body.
Manipulating muscles and other soft tissues of the body.
Providing clients with guidance on stretching, strengthening, overall relaxation, and how to improve their posture.
Documenting clients' conditions and progress.
Get started now!
Learn more about Nevada Career Institute and our programs.