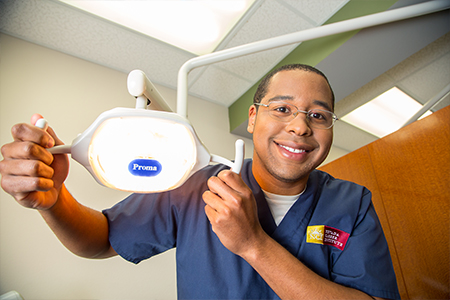 Dental Assistant
Keeping America Smiling
Serving Students Since 1993
Nevada Career Institute - Serving Students Since 1993
Nevada Career Institute - Opportunity
Dental Assistant Course Activities
Dental assistants perform many tasks, ranging from patient care and taking x-rays to record keeping and scheduling appointments. Their duties vary by state and by the dentists' offices where they work. Graduates of the Dental Assistant program routinely find entry-level positions working in dental offices, clinics and other oral health care facilities.
Dental Assistants typically perform the following tasks:
Scheduling patient appointments
Preparing patients for exams
Recording patient history and personal information
Measuring vital signs, such as blood pressure
Assisting physicians with patient examinations
Prepping instruments for doctors
Giving patients injections or medications as directed by the physician and as permitted by state law
Preparing patient samples for laboratory tests
Request Information!
Learn more about Nevada Career Institute and our programs.
* By requesting information, I consent to be contacted by a Nevada Career Institute representative via telephone, email or text message at the number(s) provided. There is no obligation to enroll. Privacy Policy