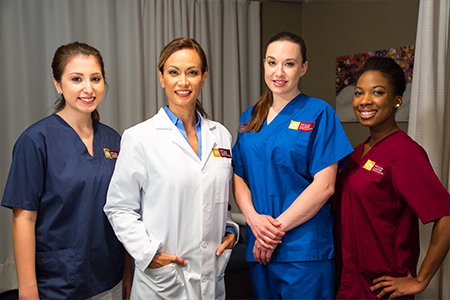 Medical Assistant
Working the front lines of patient care.
Student Success Stories
"I like to be around people and like to help others so the medical field is the best for me. I'm really proud of myself and I'm happy with my career."
Christina C.
"Tell us your story!
How did your experience at Nevada Career Institute help you? Did our career services team help you find a job after you graduated? Have you been promoted to a new position?
If you have a story you would like to share, we would love to hear it! "
Nevada Career Institute Family
"My future looks hopeful. My future looks independent. My future looks secure because I know that I have skills that can carry me anywhere."
Cynthia M.
"Since graduation, I have worked in all aspects of the medical field from family practice to sleep disorders. I make great money, and my life is very full! Thanks NCI and thanks Mrs. K!"
Denise S.
Medical Assistant Course Activities
A graduate of the Medical Assistant Program may be employed by a physician, hospital, medical and diagnostic laboratories, nursing care facilities, or outpatient facility. Employment opportunities can be found in the front office environment such as word processing, medical transcribing, admitting clerk, intake personnel, receptionist, medical records clerk, and other medical administrative procedures. Opportunities in the back office environment may include laboratory procedures such as venipuncture and other laboratory testing, preparing patients for examination, conducting diagnostic tests, and assisting with minor surgeries.
Medical Assistants typically perform the following tasks:
Scheduling patient appointments.
Preparing patients for exams.
Recording patient history and personal information.
Measuring vital signs, such as blood pressure.
Assisting physicians with patient examinations.
Prepping instruments for doctors.
Giving patients injections or medications as directed by the physician and as permitted by state law.
Preparing patient samples for laboratory tests.
Get started now!
Learn more about Nevada Career Institute and our programs.