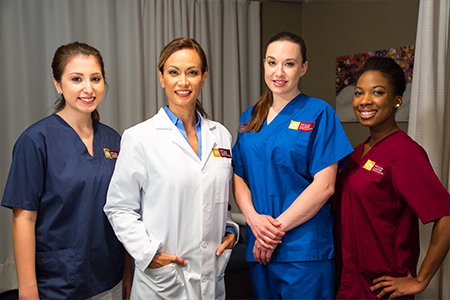 Medical Assistant
Working the front lines of patient care.
Student Success Stories
"I like to be around people and like to help others so the medical field is the best for me. I'm really proud of myself and I'm happy with my career."
Christina C.
"Since graduation, I have worked in all aspects of the medical field from family practice to sleep disorders. I make great money, and my life is very full! Thanks NCI and thanks Mrs. K!"
Denise S.
"My future looks hopeful. My future looks independent. My future looks secure because I know that I have skills that can carry me anywhere."
Cynthia M.
"Tell us your story!
How did your experience at Nevada Career Institute help you? Did our career services team help you find a job after you graduated? Have you been promoted to a new position?
If you have a story you would like to share, we would love to hear it! "
Nevada Career Institute Family
Medical Assistant Careers
Work Environment
The Medical Assistant program at Nevada Career Institute provides the education and training needed to begin a career working in a variety of different medical and health care facilities.
Graduates of the program routinely find jobs working in:
Clinics
Physicians' offices
Research facilities
Hospitals
HMOs
Public health organizations
And other health care related facilities.
Quick Facts about Medical Assistants*
Employment of Medical Assistants is projected to grow 29 percent nationally from 2016 to 2026, much faster than the average for all occupations.
Medical Assistants work mostly in primary care, a steadily growing sector of the health care industry.
Physicians are expected to hire more Medical Assistants to perform routine administrative and clinical duties, allowing the physicians to see more patients.
Most Medical Assistants work in physicians' offices, hospitals, outpatient clinics, and other health care facilities. In 2016, more than half of all Medical Assistants worked in physicians' offices.
Most medical assistants work full time. Some work evenings, weekends, or holidays to cover shifts in medical facilities that are always open.
*Source: https://www.bls.gov/ooh/healthcare/medical-assistants.htm. For the latest national information, please visit U.S. Bureau of Labor Statistics.
Get started now!
Learn more about Nevada Career Institute and our programs.