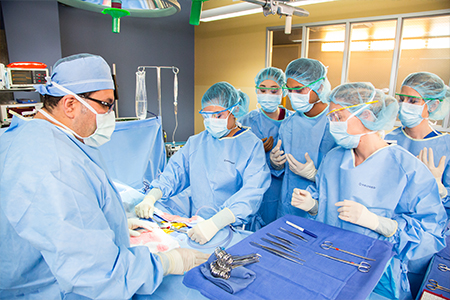 Surgical Technology
Associate of Occupational Science (AOS)
Train to become a vital member of a surgical team.
Serving Students Since 1993
Nevada Career Institute - Opportunity
Nevada Career Institute - Serving Students Since 1993
Surgical Technologist Course Activities
Surgical Technologists, also called operating room technicians, assist in surgical operations. They prepare operating rooms, arrange equipment, and help doctors during surgeries.
Before an operation, Surgical Technologists prepare the operating room by setting up surgical instruments and equipment. They also prepare patients for surgery by washing and disinfecting incision sites, positioning the patients on the operating table, covering them with sterile drapes, and taking them to and from the operating room. Surgical Technologists prepare sterile solutions and medications used in surgery and check that all surgical equipment is working properly. They help the surgical team put on sterile gowns and gloves.
Surgical Technologists typically perform the following tasks:
Preparing operating rooms for surgery.
Sterilizing equipment and make sure that there are adequate supplies for surgery.
Readying patients for surgery, such as by washing and disinfecting incision sites.
Helping surgeons during surgery by passing them instruments and other sterile supplies.
Counting supplies, such as sponges and instruments.
Maintaining a sterile environment.
Request Information!
Learn more about Nevada Career Institute and our programs.
* By requesting information, I consent to be contacted by a Nevada Career Institute representative via telephone, email or text message at the number(s) provided. There is no obligation to enroll. Privacy Policy