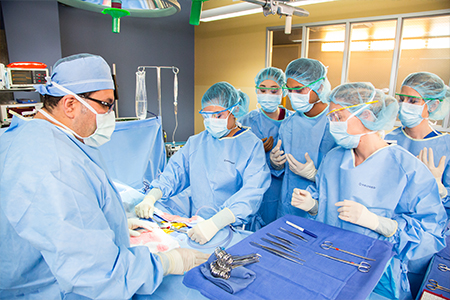 Surgical Technology
Associate of Occupational Science (AOS)
Train to become a vital member of a surgical team.
Serving Students Since 1993
Nevada Career Institute - Opportunity
Nevada Career Institute - Serving Students Since 1993
Surgical Technologist Careers
Work Environment
The Surgical Technologist program at Nevada Career Institute provides the education and training needed to begin a career working in a variety of different medical and health care facilities.
Graduates of the program routinely find jobs working in:
Hospitals
Surgical centers
Outpatient clinics
Physicians' offices (for doctors who perform outpatient surgery)
Quick Facts about Surgical Technologists*
Employment of Surgical Technologists is projected to grow 12 percent nationally from 2016 to 2026, faster than the average for all occupations.
About 71 percent of Surgical Technologists worked in hospitals in 2016. Some work in outpatient care centers or in offices of physicians who perform outpatient surgery.
Most Surgical Technologists work full time. Surgical Technologists employed in hospitals may work or be on call during nights, weekends, and holidays.
Surgical Technologists may also be required to work shifts lasting longer than 8 hours.
Job prospects should be best for surgical technologists who have completed an accredited education program and hold a certification.
*Source: https://www.bls.gov/ooh/healthcare/surgical-technologists.htm. For the latest national information, please visit U.S. Bureau of Labor Statistics.
Request Information!
Learn more about Nevada Career Institute and our programs.
* By requesting information, I consent to be contacted by a Nevada Career Institute representative via telephone, email or text message at the number(s) provided. There is no obligation to enroll. Privacy Policy