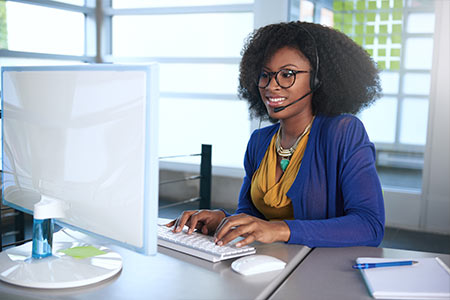 Business Office Administration
Learn the skills to get ahead in today's constantly changing business world.
Business Office Administration Careers
Work Environment
Employees in business office and administrative support occupations work in nearly every industry, with opportunities for full-time and part-time employment.  They usually work in office settings, often collaborating with business professionals and other office administrative employees to complete their tasks.
The Business Office Administration program at Nevada Career Institute is designed to teach skills needed to succeed in a diverse range of business careers, including:
Administrative Assistant
Accounting Clerk
Auditing Clerk
Bookkeeper
Customer Service Representative
Data Entry Operator
Human Resource Assistant
Office Clerk
Sales Professional
Secretary
Receptionist
Word Processor
And many more!
Quick Facts about Business Office and Administrative Support Occupations*
Employment in business office and administrative support occupations is expected to be among those with the largest number of new jobs from 2014-2024.
Office Clerks usually work in well-lit, nicely furnished, air-conditioned offices. Most work full-time, or a standard 40-hour week; however, some clerks work part-time or on temporary schedules and may also be asked to work overtime during busy periods.
Employment of information and records clerks is projected to grow 7 percent from 2014 to 2024. Employment of receptionists and customer service representatives is projected to grow 10 percent from 2014 to 2024, faster than the average for all occupations.
Information clerks held about 1.5 million jobs in 2014. The largest employers of information clerks were government agencies, hotels, and healthcare facilities, but some work in nearly every industry
Secretaries and administrative assistants held about 4.0 million jobs in 2014 and work in nearly every industry. Many secretaries and administrative assistants work in schools, hospitals, governments, and legal and medical offices.
*Source: https://www.bls.gov/ooh/office-and-administrative-support/home.htm. For the latest national information, please visit U.S. Bureau of Labor Statistics.
Request Information!
Learn more about Nevada Career Institute and our programs.
* By requesting information, I consent to be contacted by a Nevada Career Institute representative via telephone, email or text message at the number(s) provided. There is no obligation to enroll. Privacy Policy