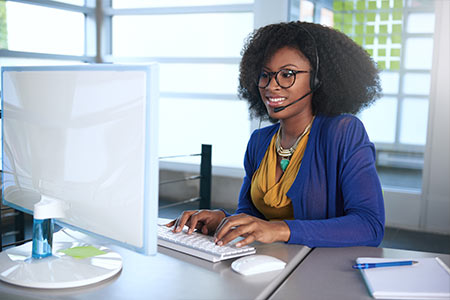 Business Office Administration
Learn the skills to get ahead in today's constantly changing business world.
Business Office Administration Course Material
The Business Office Administration program prepares graduates for entry-level employment in a professional business office setting. This program is designed to provide the core fundamental skills employers look for in administrative professionals. The students develop strong administrative, word processing and office support skills. The graduates will be equipped to successfully compete in the modern and fast-paced technological office environment.
The program is divided into seven class course modules, plus a 164-hour externship, where students apply the skills they learn in the classroom in an actual business setting.
Courses for this program include:
Seminar for Success - Orientation and success building course for Career Students. Review of basic math, language, vocabulary, and writing skills. Introduction to core career classes, availability of community resources, outlining, summarizing, managing credit, and other life skills.
Business Calculations – This course will provide students with a rudimentary review and comprehensive instruction in the fundamentals of business math. Students will learn how to use mathematics to solve typical business problems including simple and compound interest, cash discounts, mark-up percent, pricing, depreciation, taxes, insurance, and distribution of ownership and profits. The course provides an arithmetic-based approach to business math that focuses on building skills in the areas of percentages, decimals, fractions, and systems of units. The course will also provide students with the opportunity to apply these fundamentals to Microsoft Excel and Google Sheets.
Accounting Principles I – In this course students will be introduced to the basic accounting principles that provide the foundation of business math and financial accounting. The course will emphasize the construction and the elements of a basic financial accounting statement. Students will receive training and instruction on how to perform basic office banking, maintain and process payroll records, and how to calculate simple and compound interest. The course will also cover financial information and accounting concepts to familiarize students with financial management, financial markets, and investment strategies.
Accounting Principles II – In this course students will learn the basic accounting principles in a computer-based office environment using the commercial accounting software QuickBooks. Students will receive hands-on experience in bookkeeping and in creating types of financial statements such as the income statement and statement of owner's equity. Students will input a new company setup, enter data, prepare computerized forms and reports, and troubleshoot. By the end of the course, students will be proficient in accounting application QuickBooks, will understand how to complete a sophisticated accounting report, and utilize QuickBooks's accounting analysis tools.
Business and Office Basics – This course teaches an awareness of the functions of business in society with an emphasis on understanding business ownership, competition, and the systems through which businesses operate as well as gaining proficiency in Microsoft Excel, Microsoft Word, and Microsoft Outlook. Students will understand the effects of positive and negative communication within an organization and how they impact an organization's success. Students will analyze the contributing factors to an organization's efficiency in terms of the layout, design, and facilities structure. Throughout this course, the learner will gain a better understanding as to the impact that record retrieval has on a business's day-to-day operations. Students will explore various record management programs and systems for a variety of formats, including print, electronic, and image. Students will study the impact and methods of office reprographics and mail services organization.
Business Information Systems – This course will prepare students to troubleshoot and problem-solve computer and information-system based complications. Students will understand various aspects of computer technology, including computer hardware and software and internet information systems. Students will explore the wide variety of functional applications that software has brought to the office setting as well as analyze the efficiency by which many office tasks are now performed with computers and information systems. The course will also explore the area of telecommunications and prepare learners to achieve mastery in the transmission of information using telephone technology.
Business Management Principles – This course introduces the student to the basic elements of human resources, principles of leadership and management, and marketing and advertising techniques as well as understanding public relations. Learners will develop an understanding and appreciation that much of an organization's success is attributed to the quality of its work force. Students will learn how the human resources department of an organization contributes to ensuring that company's work force is well-developed, well-trained, and effective. Students will also spend time exploring the evolution of leadership and management theory and how these theories play a part in various aspects of the administrative office management concept. Students will also become adept in the various social media platforms that are used to gain marketing strongholds in the modern business world, such as Yelp, Facebook, Snapchat, and Instagram.
Externship – This course focuses on the practical application of professional knowledge, skills, and training in a business office setting. Upon the successful completion of classroom and laboratory training, business office assistant students will participate in a supervised 160-hour externship in a professional business office setting chosen for the student by the faculty team. Externship sites will be selected for the student from the Institute's list of partnerships based on location and availability. All externships will be faculty-supervised and require the student to report to their faculty member clinical coordinator on, at least, a weekly basis. At the clinical site, the student will perform the duties and responsibilities of an office administrator under the direct supervision of an office manager. This course is a requirement for graduation.
Request Information!
Learn more about Nevada Career Institute and our programs.
* By requesting information, I consent to be contacted by a Nevada Career Institute representative via telephone, email or text message at the number(s) provided. There is no obligation to enroll. Privacy Policy